Welcome to Cow of the Wild Wiki
About Cow of the Wild || Wiki Rules || Recent Changes
---

This is an ever-growing database dedicated to Cow of the Wild.
There are currently 133 pages and a circulating total of 5,798 edits.
Anyone is free to edit and help expand our knowledge of the series.

The wiki stands in no affiliation with TribbleofDoom. It is exclusively made by fans.
This wiki also contains heavy spoilers to the series. Read at your own risk!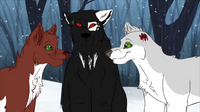 24. Who's Your Daddy?
When Luca returns to the pack in search of Lupis, she runs into Midnight who convinces her that her friend never really liked her and is choosing Midnight as his mate over Luca. At the same time, the duel between Lupis and Rune takes place, though Lupis lacks the battle experience to be a worthy opponent to the false king, who comes to reveal a disturbing idea to him.